Old MacDonald Glove Puppet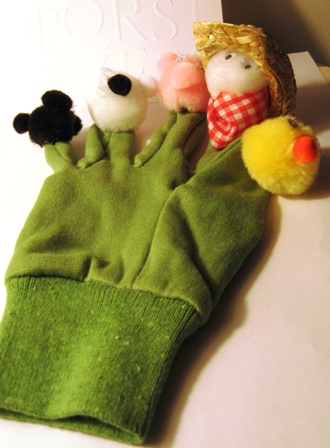 Growing up, my mom made many of these glove puppets and we adored them.  This is a remake of one of those homemade puppets from my growing up years.  They are easy to make and are sure to enhance learning and fun!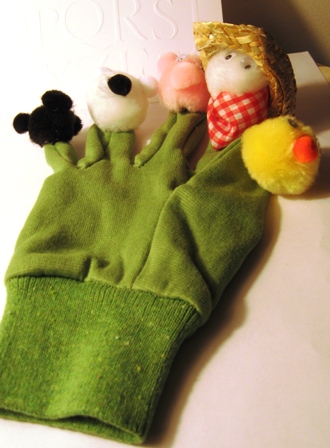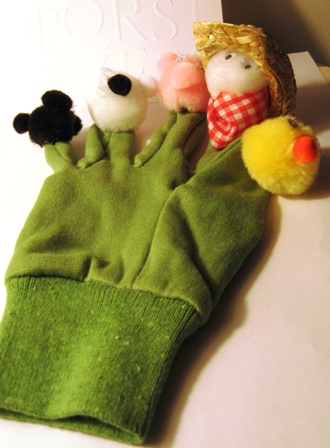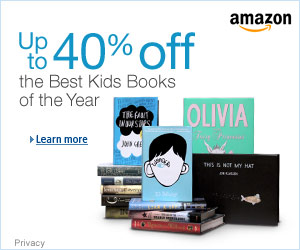 Supplies:
old black gardening glove-should be soft, not rough
pink, peach, white, yellow, brown pom-poms all are large except the pink one
one farmer's hat to fit on the peach pom-pom
10 wiggly eyes
black, pink, orange, and brown felt
glue gun & glue sticks
Directions:
Glue the peach pom-pom on the index finger. Glue the pink one on the pinky finger. The others can go where you wish.
Glue the eyes on all the pom-poms and glue the hat on the peach one.
Make little triangles for ears for the brown one which is a dog. Then make ears, a tummy and black little hooves for the piggy. The ears should stand straight up. The yellow pom-pom is a duck. Make little feet and a beak with the orange. The white one is a sheep. Make some little ears.
When they look like little animals, then you are done!
Now you can play "Old MacDonald Had A Farm" and have a puppet!