Books, Books and More Books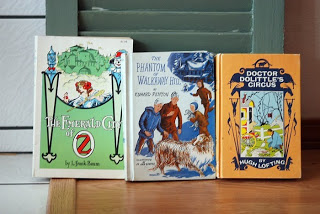 Its so exciting for a bibliophile to live in the land of books. There are at least six used books stores in our area not including the thrift stores.With eight homeschooling kids I feel it is imperative to have a family library.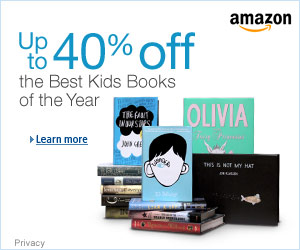 "I cannot live without books" Thomas Jefferson once said. No one should live without books! Books uplift. Books inspire. Books teach. The teaching done through books encompasses many areas: vocabulary, life experiences, knowledge, learning, and the list goes on and on. There is no doubt that books are important.
A library is, according to Webster's Dictionary, "A place in which literary, musical, artistic, or reference materials (as books, manuscripts, recordings, or films) are kept for use but not for sale." A Family Library is more than just a collection of books that a family accumulates. A family library is a library of books that a family accumulates for themselves and their posterity. Great care should go into the collecting of books for this library, because the family knows the worth of such a library. Many great men in history had their own extensive family libraries. Thomas Jefferson sold his collection of 6, 487 books to re-start the library of congress. That is an admirably sized library!
Why have your own library of books?
Why go through the expense and trouble of creating your own family library? There are many reasons, but I only plan to include the more important ones.
The first reason is so that you and your family are always learning. "It is a great mistake to think that education is finished when young people leave school. Education is never finished." Mrs. Child in The Mother's Book. (More of this article here at the TJED website.)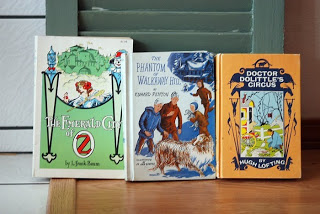 I found the above books at a bookstore that specializes in old books. The Oz & Dr. Doolittle books belong to one of the following collections.
List of "canonical" Oz books
By L. Frank Baum
1 The Wonderful Wizard of Oz 1900
Dorothy and her little dog, Toto, get swept into the Land of Oz by a cyclone. She meets a living Scarecrow, a man made entirely of tin, and a Cowardly Lion while trying to get to the Emerald City to see the great Wizard. Also reprinted by various publishers under the names The New Wizard of Oz and The Wizard of Oz with occasional minor changes in the text.
2 The Marvelous Land of Oz 1904
A little boy, Tip, escapes from his evil guardian, the witch Mombi, with the help of a walking wooden figure with a jack-o'-lantern head named Jack Pumpkinhead (brought to life with the magic Powder of Life Tip stole from Mombi), as well as a living Sawhorse (created from the same powder). Tip ends up on an adventure with the Scarecrow and Tin Woodman.
3 Ozma of Oz 1907
While traveling to Australia with her Uncle Henry, Dorothy is swept overboard with a hen named Billina. They land in Ev, a country across the desert from Oz, and, together with new-found mechanical friend Tik-Tok, they must save Ev's royal family from the evil Nome King. With Princess Ozma's help, they finally return to Oz.
4 Dorothy and the Wizard in Oz 1908
On her way back from Australia, Dorothy visits her cousin, Zeb, in California. They are soon swallowed up by an earthquake, along with Zeb's horse Jim and Dorothy's cat Eureka. The group soon meets up with the Wizard and all travel underground back to Oz.
5 The Road to Oz 1909
Dorothy meets the Shaggy Man, and while trying to find the road to Butterfield, they get lost on an enchanted road. As they travel they meet the rainbow's daughter, Polychrome, and a little boy, Button-Bright. They have all sorts of strange adventures on the way to Oz.
6 The Emerald City of Oz 1910
Dorothy Gale and her Uncle Henry and Aunt Em come to live in Oz permanently. While they tour through the Quadling Country, the Nome King is tunneling beneath the desert to invade Oz.
7 The Patchwork Girl of Oz 1913
A Munchkin boy named Ojo must find a cure to free his Uncle Nunkie from a magical spell that has turned him into a statue. With the help of Scraps, a living Patchwork Girl, Ojo journeys through Oz in order to save his uncle.
8 Tik-Tok of Oz 1914
Betsy Bobbin, a girl from Oklahoma, is shipwrecked with her mule, Hank, in the Rose Kingdom. She meets the Shaggy Man there and the two try to rescue the Shaggy Man's brother from the Nome King. This book is partly based upon Baum's stage musical, The Tik-Tok Man of Oz, which was in turn based on Ozma of Oz.
9 The Scarecrow of Oz 1915
Cap'n Bill and Trot journey to Oz and, with the help of the Scarecrow, overthrow the cruel King Krewl of Jinxland. Cap'n Bill and Trot had previously appeared in two other novels by Baum, The Sea Fairies and Sky Island. Based in part upon the 1914 silent film, His Majesty, the Scarecrow of Oz.
10 Rinkitink in Oz 1916
Prince Inga of Pingaree and King Rinkitink and their companions have adventures that lead to the land of the Nomes and, eventually, Oz. Baum originally wrote this book as a non-Oz book entitled King Rinkitink.
11 The Lost Princess of Oz 1917
Concerning the disappearance of Princess Ozma, the ruler of Oz. When she is discovered missing, four search parties are sent out, one for each of Oz's four countries. Most of the book covers Dorothy and the Wizard's efforts to find her. Meanwhile, Cayke the Cookie Cook discovers that her magic dishpan (on which she bakes her famous cookies) has been stolen. Along with the Frogman, they leave their mountain in the Winkie Country to find the pan.
12 The Tin Woodman of Oz 1918
The Tin Woodman, Nick Chopper, is unexpectedly reunited with his Munchkin sweetheart Nimmie Amee from the days when he was flesh and blood. Along the way, Nick discovers a fellow tin man, Captain Fyter, as well as a Frankenstein monster-like creature, Chopfyt, made from their combined parts by the tinsmith, Ku-Klip.
13 The Magic of Oz 1919
Ruggedo, former Nome King, tries to conquer Oz again with the help of a Munchkin boy, Kiki Aru. Meanwhile, it is also Ozma's birthday, and all of Oz's citizens are searching for the most unusual present for the little princess. This was published a month after Baum's death.
14 Glinda of Oz 1920
Dorothy, Ozma and Glinda try to stop a war in the Gillikin Country. This was Baum's last Oz book, and was published posthumously. Most critics agree this is Baum's darkest Oz book, most likely due to his failing health.

Doctor DoLittle Series
By Hugh Lofting
The Story of Doctor Dolittle (1920)
The Voyages of Doctor Dolittle (1922)
Doctor Dolittle's Post Office (1923)
The Story of Mrs Tubbs (1923)
Doctor Dolittle's Circus (1924)
Porridge Poetry (1924)
Doctor Dolittle's Zoo (1925)
Doctor Dolittle's Caravan (1926)
Doctor Dolittle's Garden (1927)
Doctor Dolittle in the Moon (1928)
Noisy Nora (1929)
The Twilight of Magic (1930)
Gub-Gub's Book, An Encyclopaedia of Food (1932)
Doctor Dolittle's Return (1933)
Doctor Dolittle's Birthday Book (1936)
Tommy, Tilly, and Mrs. Tubbs (1936)
Victory for the Slain (1942)
Doctor Dolittle and the Secret Lake (1948)
Doctor Dolittle and the Green Canary (1950)
Doctor Dolittle's Puddleby Adventures (1952)
I recently went used book shopping with a girlfriend of mine and she remarked that she doesn't really know what titles to look for when she goes shopping. I completely know how she feels because before I met my book mentor I didn't know where to look or even have a store of knowledge of any classics books with the exception of a small handful. My hope is with this blog that you are becoming more and more aware of many titles that you were not aware of before. I invite you to share your book lists or blogs with book ideas so this can be a collaborative effort as I enjoy learning more titles or books too.~