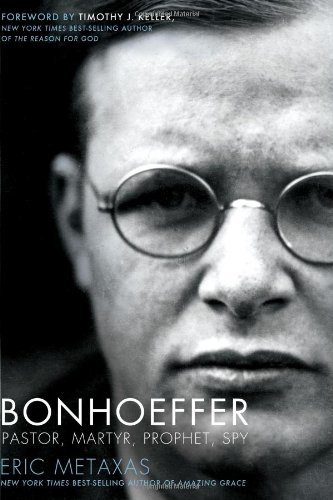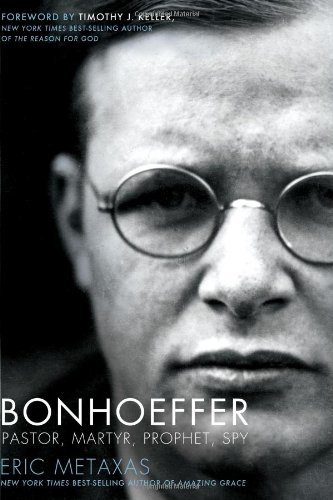 I finished Bonhoeffer: Pastor, Martyr, Prophet, Spy with my husband this week.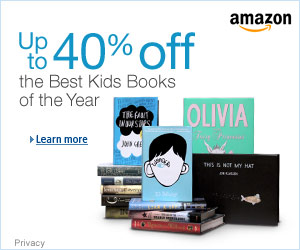 Metaxes wrote a work of art. I read this with my husband and we learned so much about WWII that we never knew. My husband and I could hardly stay away from the book and both of us are sad that it's over.
Dietrich was such a example of righteous leadership. I often wonder how I would stand in the face of such adversity. He did not fear man and he did not fear death. I love to read about people of his stature. Corrie Ten Boom is also a favorite of mine. I'm so glad to have such people to look up to.
Bonhoffer was a man of courage and convictions. He wouldn't stand down. He even had the guts to face Hitler with his complaints. He loved Martin Luther and in a way he reminds me of him. He was one of the founders of The Confessing Church because the German church at the time was allowing Hitler to have way too much say in religion (that he didn't even believe in). Hitler removed the Bibles from the alters and replaced them with Mein Kampf (Hitler's My Struggles). He put a wicked man with his agenda as head of the church. Yet, this did not stop Bonhoeffer.
He wrote many wonderful and faith promoting sermons and was an incredible deep thinker. I was also so amazed at the fact that he got his doctorates degree by age 21! Education was an important part of his family and his life. He loved the Psalms and practiced daily worship routines that kept him close to his Savior. He left his final jail cell with Goethe's works in his hands.
Here are a few quotes from different people at his funeral:
"He knew his classics in art, music, literature before he criticized, he knew how to read and listen before voicing his opinion."
"The unrest of the quest ends in the discipleship of Christ, the theme of his last book, now carried into practice in his own life."
I felt connected with this book for several reasons.
First, I grew up in a military family and lived in Germany twice as a child. My dad was obsessed with World War II and we visited many sites that were significant to it's history in Germany. While living here, the Berlin Wall came down.
Second, I love reading about people with convictions who changed the course of history and to learn about their lives and who they are.
Third, we are here in Germany again. We have visited several towns mentioned in his history and plan to visit several more places, including Berlin where his house is a museum.
Fourth, I'm always looking for examples of good leaders. People who don't follow the crowd, but who follow their hearts and where God leads them no matter the path.
TJED Phases: Scholar, Depth, Mission with the emphasis on Mission
TJED Keys: Inspire not Require, You Not Them, Classics not Textbooks, Secure not Stressed
Rating: For Scholars and above.  He does speak of prostitution and the horrors of death and war.
More reading:
Here is a Book Trailer:
Here is the author speaking more about the book:
This post contains affiliate links. Thank you so much for supporting this site.