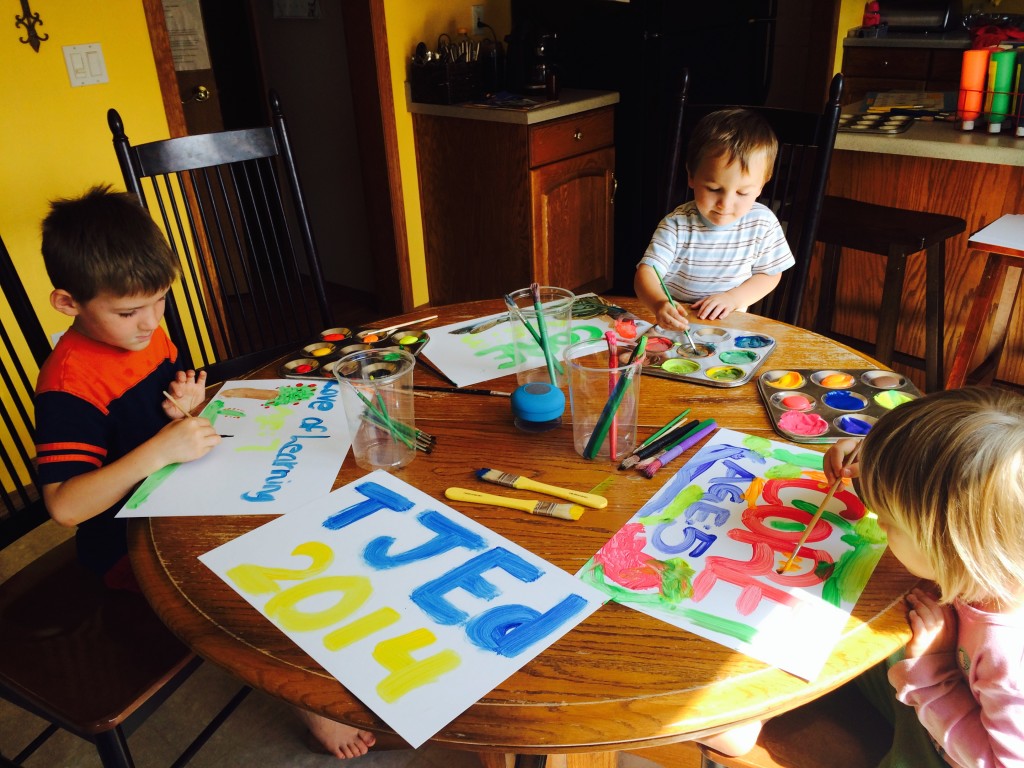 It is that time of year when our newsfeeds overflow with "back to school" this and that. As a homeschooler, I am not immune to the thrill of new markers and pencils and clean notebooks. My kids may not have a "school supply list" but they do have the same measure of excitement shopping for these brilliantly marketed "must have" supplies that will unlock their creative potential and feed their inner genius.

The topic of supplies could fill an entire series of posts (and well it should) but once those supplies are purchased, labeled, carefully placed in nifty new backpacks and set by the door for that magical "First Day of School," our newsfeeds explode with pictures of kids in clean new clothes, sporting their trendy back packs and heading off to their "new grade" for the "school year". I loved this time when I was kid. The year was new, the opportunities freshly renewed and I was rested and ready to climb the next academic and social mountain before me. Yay for the Fall! Yay for sparkling schools! Yay for new teachers and books and markers!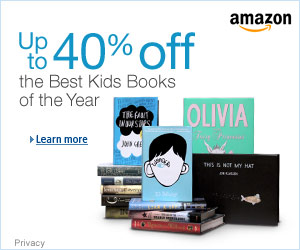 In our TJEd home, however, we don't have a school year. Our home education culture is one of timeless learning that follows the schedule of each child's internal Phases of Learning. Fall is a gorgeous opportunity for us to come in from the garden for a few hours and read more. Fall is an exciting time for reviewing traditions and making new ones. Fall is a time of thanksgiving as we reap the harvest of our year and prepare for the long, dark and cold winter.
And yet… there is still something so ingrained in our Agrarian culture that "back to school" resonantes even with the more adamant home school advocate. And so, along with all of the fish in the school, we want to capture our children in their current Phase of Learning and mark the growth potential of another year!
At Academy 3915 (our homeschool name), we enjoy art on Fridays. There is no particular reason for it… it was just the day that seemed the most sensible for getting messy. Maybe we are thinking of the pioneer bath night on Saturday and see the point in doing our messiest work closest to the weekly pre-sabbath scrub.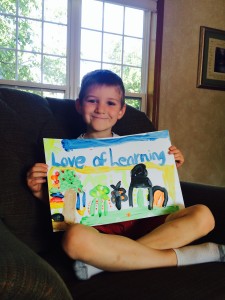 This "year" I have 2 children in Core Phase and 1 who is emerging into Love of Learning. Instead of noting their grade, we made signs noting their Phase of Learning. Like most of us, my kids are asked pretty regularly what their "grade" is and which "school" they go to. Their daddy is a private high school administrator and so there seems to be an extra emphasis on their educational markers. As such, we take Oliver and Rachel DeMille's advice in Leadership Education: The Phases of Learning about helping kids to understand those Phases of Learning  pretty seriously. We mentor the kids about their phases pretty regularly.
On the day that we decided to do our "school pictures," I gave the Phases of Learning special emphasis during Kidschool. As the kids painted their signs, we talked about the Phases, what we love about them and how each one of them are moving through their own phase. It gave my kids enormous confidence and no small amount of pride t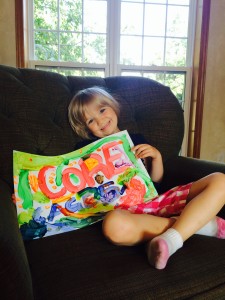 o understand where they are, how they got there and where they are going.
One of my favorite things about Leadership Education is that my husband and I are in a phase (or several) of learning as well! The kids were delighted to hear about mommy and daddy's phases!
Another beautiful feature of homeschooling in this way is that while we were messy with our painting, we were also messy with our "subjects". While we painted, we talked about each phase, did some color blending with the paint, talked about how to measure and size the letters of our words so that they fit properly on the sign, compared the sizes and styles of paint brushes and the effect that each give and listened to Elizabeth Mitchell's wholesome children's folk music.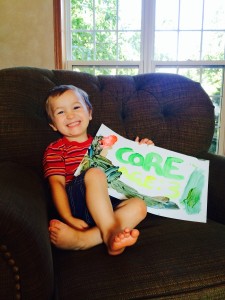 What about you? What kind of "back to school" photos are you doing this year?